(@KernelForbin Remaster)
Background (Ghost Position: Set 1 of 2 – Song 4 of 8-Show Gap: 3)
Ghost moves right into the middle of the first set.  There is debate about whether or not My Left Toe was played at this show.  I believe it is more of a Ghost ambient jam than My Left Toe.  The phish.net setlist was changed recently after we hashed this out.  For purposes of this review this track is Ghost->Free.
Composed Section (0:00-4:48)
As per 1999, some screaming loops from Trey greet the Albany audience.  It takes Mike and Fish a bit to enter.  When everyone lines up, the Ghost takes on an average pace.  A nice smooth jam goes down before the vocals enter into the picture.
The solo section is an easy going groove with a touch of forceful Mike.  You can tell this Ghost is going to be a lot less intense then the previous two.  A slightly lengthy pause gives way to a much better drop in that we saw at Redbird Arena.  Much better fellas.
Beautiful Bliss (4:49-9:30)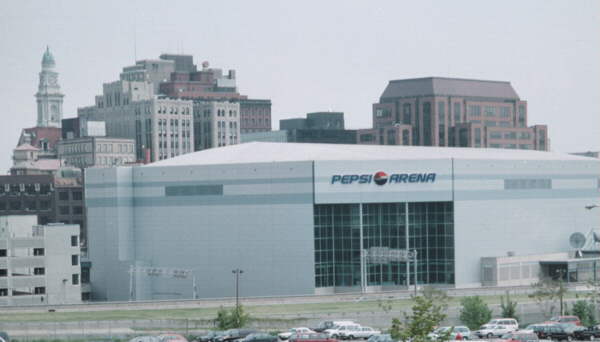 The jam begins with a slow pace set by Fish.  Trey begins sending out loops and whale calls to echo through the Pepsi Arena.  Mike responds with some well chosen bass notes and the jam breaks into a minimalist state right away.  It allows for the loops to echo around the arena with great force.  Trey guides through the fog he has created with a gliding guitar tone.
At the 6:07 mark, Page starts to make his presence known on the keys.  He begins to craft melodies that work in perfect unison with what is going on around him.  The jam quickly takes on a peaceful, blissful tone.
We are only about a minute and a half into this jam and I am already floating away from reality.
The clouds and blue skies are coming closer and closer to me with each passing measure.  This is gorgeous stuff, I am most impressed with the Trey. Each note sounds like it is perfectly scripted and that if he sat and played the jam a hundred times he couldn't pick a more perfect note.
By the 7:18 mark, my soul is being officially moved.  This sounds more like a beautiful Hood jam that the Dirty Ghost.  I will say it once again.  Ghost is my favorite song because of the limitless forms it can take.  Page moves in around the 7:18 mark.  The blending of his piano with Trey's tone is a huge reason why I love Phish.
I can play this one minute section of 7:18-8:18 and forget the problems and stress in my life.  Each note from Page is like a load lifting away.  Work got you down?  Family stressing you out?  Hatred, and ugly people make you sad?  Trey and Page are here to take you to a better place.
I saw 3 bands in 4 days last week and had a great time at each one.  I came away thinking that there is one big reason why I will always love Phish more than any of the others.  Page McConnell.  7:18-8:18 is a perfect example why.  There are plenty of other musicians I love and could certainly speak highly about.  NOBODY makes me FEEL the things Page does.  Cheers to the Chairman.
At 8:27 Trey starts to repeat some notes.  When he comes away from them, he moves back into the jam with ease.  Fish picks up the pace ever so slightly.  He blends the increase of pace so smoothly, you barely notice it, until all of the sudden it is there.
Uptempo Bliss (9:31-14:10)
As the increase in tempo takes place the jam starts to slowly build some
steam.
At about 10:06 you can hear the first signs of Trey starting to get after it.  Certainly nothing of machine gun caliber, but he has increased the frequency of the notes he is playing.  Trey then starts to repeat a series of licks.  A nice fill from Fish at 10:43, moves nicely with repeating Trey.
Page works some nice piano tones into this jam before making a quick change at 11:02.  He quickly returns with the piano and absolutely nails it at 11:18.  From that point forward Page and Trey produce some stunning work, the interplay is gorgeous.  Trey continues to repeat licks over and over then leaves a space for Page.  Page answers with beautiful melody after beautiful melody.  I feel like this stuff could create world peace.  Crips and Bloods could have a beer together while listening to this.
It is probably time I mention the rhythmic duo of Gordon and Fish. Without their outstanding supportive role, none of this is possible.  Mike's notes are well chosen.  At no point does he overplay, instead he fully supports the jam.
To me this is the "peak" of this Ghost.  I enjoy this section, as much as any shredding Trey peak.  There is a lot of thought that goes into such a blissful "peak" for it to take place.  This is completely different, more than any other section of any other Ghost, and that is why I love it!
Kate Upton Space Angel and her 40 Twins  (14:11-23:11)
Fishman shifts the pace slower, and Mike reacts with an awesome deep sound.  The crowd gives the band a nice hand for the previous 14 minutes.  The jam has completely changed directions and you can feel things are getting out there, with each passing measure.
I love these moments.  When a jam goes in a fantastic direction, then moves into a completely different direction.  I can't take the excitement!  Phish is amazing because they take serious chances like this.
Mike and Fish move things way, way down, chugging a lugging this dark train.  Page adds space effects for the train to move through.  Trey hangs back while Fish and Mike do all the work.  Then Trey finds his spot at about the 15:48 mark, and introduces an awesome melody to this dark train ride. The jam is equal parts dark, blissful, scary, and beautiful.
Around the 17:18 mark, the jam begins to drift away into ambient space.  Fishman continues to drive through the space.  He is working hard!  At 17:57, Page brings the train into outer space with a friendly tractor beam.  Mike follows with some higher pitched bass notes.  We are officially in "what song was this again" territory.
At 18:28, Trey begins to interject some light, space rain drops, into this ambient dance.  I feel so light during this.  I feel like I did in high school before I started crushing beer, ice cream, and my metabolism slowed down.  Be right back, ice cream sundae time.  Mmmmm whip cream…..
The jam stays way out into this beautiful ambient bliss.  I feel like Angels from Space could walk down a heavenly flight of stairs and kiss me.   Actually like a Kate Upton Space Angel, with 40 twin alien sisters is walking down to greet me after a long day's work.
Less is often more.  The jam stays in this gorgeous heavenly place and does not stray.  Little variances from each band member give it just enough change where it doesn't get boring.  Subtle beat changes from Fish, sprinkles of piano from Page, and variant beats from Mike.  Trey adds outstanding effects to help us all float away.
All I want to do is hug each and every one of you.  That is, if we could find each other in this space.  At 23:11 a brilliant call, and segue, into Free takes place.  That was absolutely awesome!
Final Thoughts
Talk about a Ghost that is completely different than the previous versions.  The band takes a whole bunch of chances and nails it.  I give major bonus points for a Ghost that goes out and tries something different.  I love the interplay and brilliance of Trey and Page during this Ghost.  Mike and Fish are also completely on point.  Not everything has to rip you to shreds to be an all time jam.  I could live in the ambient space this Ghost has created.  Bravo!
Score: 9.4