(AUD Download @KernelForbin Remaster)
Background (Set: 2 of 2 – Song: 7 of 9 – Show Gap: 3)
Ghost returns to SPAC and emerges after a standout Sneakin' Sally Through the Alley.  No segue has been included.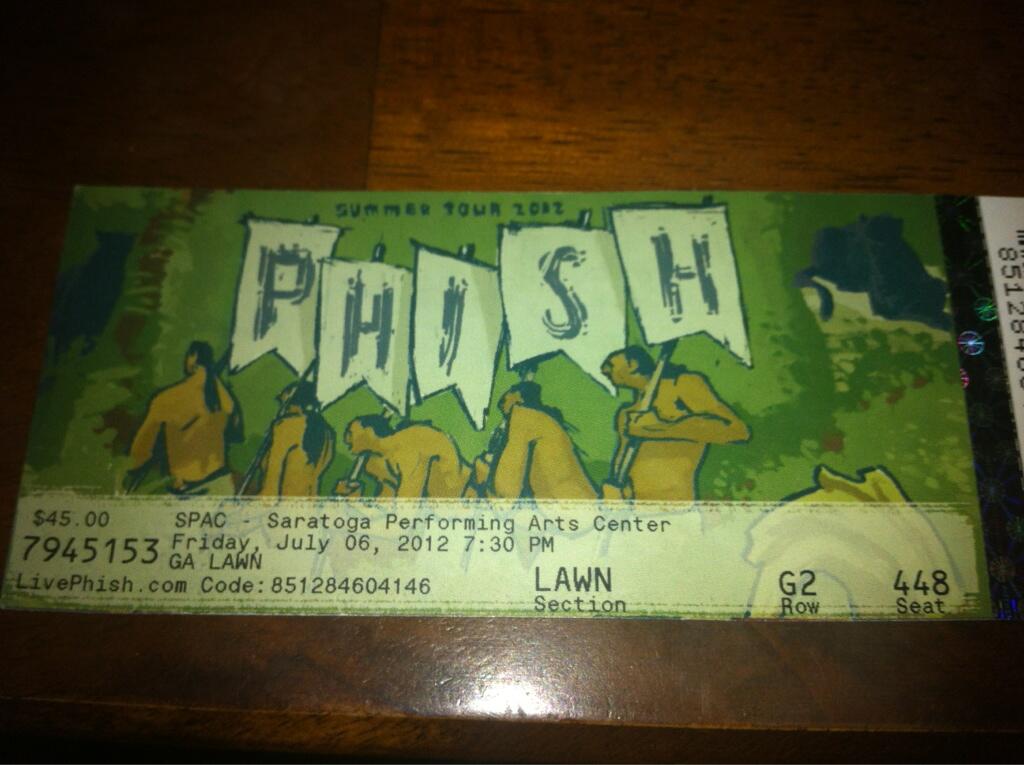 Composed Section (0:00-3:50)
A great call to play Ghost in this slot, after a ripping Sneakin' Sally Through the Alley.  As the end of Sneakin' fades away, Trey gets things going.  The rest of the band quickly follows suit and Ghost takes shape.  The intro jam is short and we jump right into the lyrics.
The pace is a bit slower than normal, and the band is taking their time.  Page gets after it right from the start of the solo section, and attacks with the clav.  When Mike comes in, it only adds to it.  Stellar job by Page.
The lead is in nice and smooth.  The solo section gets a nice note from Trey and is a bit longer than normal.  The drop in is clean, although for some reason seems a bit forced.  It also, seems to have more of a funky feel to it.  Whatever, the timing was good.  They get a happy gif…
SPAC=Super Patient Awesome Coolness (3:51-7:00)
Right away at the 3:58 mark, Trey starts to go a different route.  He plays some effects and brings unique sounds into this opening section.  Page uses the clav to work around Trey's space adventure.  Fish and Mike lay down a groove.  The band is taking chances from the beginning and it is sweet right from the start.
At 4:30, Fish slows up the beat and then moves to the cymbals.  Next, he builds some tension then lets it go, resulting in an even deeper groove.  When he releases it at 4:42, things are as cool as an ice cream sundae.  Speaking of ice cream… I'll be back in a second.
Fish doesn't stop there, he does it one more time at 4:57.  Trey works that bluesy tone over the top.  When Fish drops the beat at 5:16, Mike nails the timing perfectly.  Gordon drops a nice strong bass line and we keep the groove a movin'…
This is a deeper groove than a lot of the other Ghost jams.  Trey provides some nice solos, and I never feel like he moves too far away from the rest of the band.  Mike is on fire from this point forward.  The Cactus is providing me with all the ammo I need to drift away to another place.
Things begin to change a bit, and then Trey holds a nooooooooooooooote at  6:25.  Mike builds things underneath, and Page decides to move to the piano shortly after the sustained note ends.  The nooooooooooooooooote doesn't springboard into a massive peak here.  Instead, it sets up a deeper groove and gives the band a path for the build.
Death March>Bliss (7:01-11:58)
Trey starts to inject a nice easy lick, and then speeds it up.  He
starts a build, and Page especially, follows beautifully.   Page crafts some sweet melodies around Trey's evil death march lick.
The jam looses a bit of steam at the 8:00 mark, but Page responds with some heavenly rain drops to fill in the gaps.  The rest of the band is looking for a direction, and then the Cactus provides an authoritative one.
Mike drops a beast of a bass line at 8:26 and Fish helps generate some power.  Page holds some chords on the organ and this jam powers back up in no time.
The band locks in nicely.  At 9:10 my ears begin to focus on Fish and Page.  Trey is doing an awesome job of providing a huge space for them to work by repeating a nice easy lick, that the band is able to build on.
This is just awesome.  Although this gif doesn't fit perfectly, I am putting it here because I just found it.  I am literally crying from laughing so hard.
This jam is blissful and beautiful.  Wow I just watched that gif again.   Amazing.
The band moves beautifully, and works to create this bliss as one unit.  Saratoga has special meaning to Trey.  He is able to express that with his gorgeous playing at the end of this Ghost.  Controlled, calculated, heavenly.  High marks Trey!
At about the 11:00 min mark Trey starts to get softer, while Fish and Page work the end of this jam.
Page breaks out his heavenly harp, and floats us to the end of this Ghost.  Just awesome.
Final Thoughts
Another completely unique 2012 Ghost.  This is a more spacey, groovy Ghost.  Here we have another version without a peak.  Fine by me.  This doesn't have that incredible memorable section, but as an entire composition it is fantastic.  The Sneakin' Sally Through the Alley>Ghost combo from this night is a tour highlight.
Score: 8.7